Sign and Digital UK – the premier signmaking event for 2017
March 28th-30th will be dates that many signmakers have noted in their diaries. Over those three days, the National Exhibition Centre will be home to Sign & Digital UK, Britain's largest trade event for the signmaking industry.
2017 marks the show's 30th anniversary as a national event, and the organisers anticipate over 180 exhibitors. Attendees will be able to attend seminars, workshops and surgeries run by experts in their fields.
According to the NEC's website, the products and services on display will include "interior & exterior signage, wide-format printers, textile printing equipment, CNC Routers, laser cutters, display systems, sign & print substrates & materials, inks, sign fixings, tools, adhesives & tapes, vehicle livery products and print finishing equipment."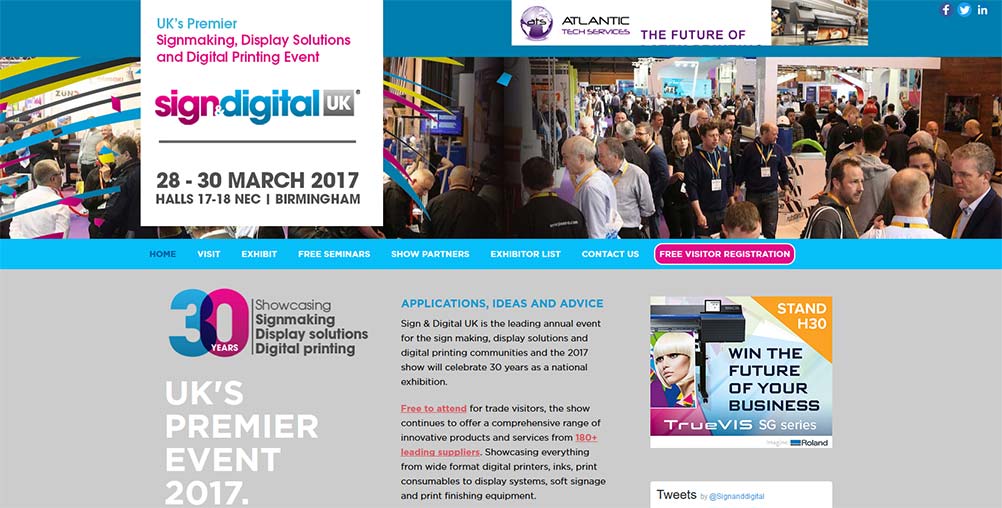 For anyone involved in signmaking, there are several excellent reasons for attending:
Gaining new clients. The organisers anticipate around 6,200 visitors, and ultimately many will be there to find suppliers for their signage needs. It's a rare opportunity to encounter a large number of potential customers in a short space of time. Polls of visitors to last year's event showed that 90% considered it  "a great place to meet potential new suppliers" and 45% had not attended any other shows in the sector in the last two years.
Considering new markets. The show attracts visitors from many fields, from graphic designers to institutions needing school signs, from the automotive industry to local authorities. Meeting and interacting with such a range of attendees (and exhibitors) can  get signmakers thinking about new directions and new markets.
Getting up to speed on new developments. Like most industries, signmaking is changing rapidly. Working in their own bubble, and with so much to do each day, it can be hard for signmakers to keep up with the latest trends and technologies. The Sign & Digital UK event gives attendees and exhibitors the chance to learn what's going on and what's coming next within their sector.
Learning new skills. With seminars run by industry giants Corel, Adobe and Signlab, there will be free skills training available for everyone.
Get free business advice. At the Business Theatre, experts will be holding sessions on improving and growing a business.
Checking out the competition. With so many exhibitors, visiting (or exhibiting yourself) is the perfect way of sneaking a peak at what your business rivals have to offer.
Networking. This is perhaps the biggest advantage of attending Sign & Digital UK. Businesses thrive on their contacts. By meeting fellow professionals in an informal atmosphere, signmakers can gain potentially profitable partners, engage with new suppliers and so on.
Practicalities of attending Sign & Digital UK
The event runs on Tuesday 28th March (10:00 – 17:00), Wednesday 29th March (10:00 – 17:00) and Thursday 30th March (10:00 – 16:00) in Halls 17 and 18 of the NEC Birmingham.
There are 16,000 parking spaces available at the NEC and it is well-served by rail links.
Note that no children under 16 are allowed at the show, including infants or children in pushchairs.
Need a signmaker but can't make the NEC?
Based in Warminster, Wiltshire, Mirage Signs are a well-established signmaker that meet the signage needs of most sectors. From aircraft graphics to plaques and honour boards, we have a tremendous amount of in-house experience.
If you're looking for a sign provider but  can't make it as far as the NEC this March, why not get get in touch to discuss your requirements?
Comments