Mirage Signs manufacture and install recycling signage for local authority and waste management organisations throughout the UK. From single skip waste signs to complete household recycling site projects we have the experience to provide your complete recycling sign solutions.
Fleet vehicle graphics - Producing vehicle graphics for kerbside collection and other recycling collection vehicles from a single van to a complete fleet of HGV's. Magnetic signs for skip use and freestanding 'stanchion' signs all supplied with a durable laminated print to the face. Heavy duty printed banners are available for temporary use or to promote services.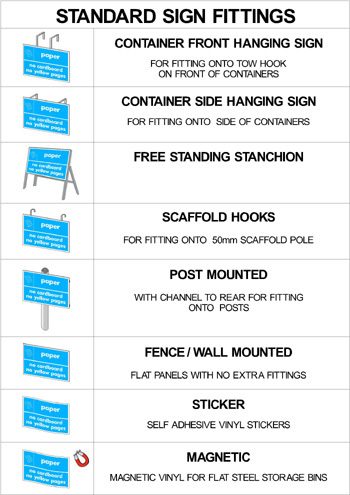 With many standard stock signs available, we can also design bespoke signage for particular recycling requirements. Contact us for more information and a competitive quotation.
Clearly identifying and disposing of the desired recyclable materials is important and therefore clearly marked collection bins makes the recycling process easier and more cost effective.
Introducing our full range of recycling signs and stickers for individuals, business and local authority. Incorporating the Government-led WRAP (Waste & Resources Action Programme) colour coded system with pictograms to aid awareness.
A selection of stock recycling signs now available for the various material steams from our online shop. These are only examples and we can produce other variations of size and type, including magnetic, stickers and sign panels. Contact us with your requirements, no minium order.
Installation & Fitting
Full installation service available by our own in-house qualified installation team.
Order Your Recycling Site Signs
Get in touch today to place your order or to ask any questions.
other contact options