Supplying vinyl graphics and registration letters for aircraft, gliders, ultralights and microlights. Vinyl Graphics and Decals are an excellent way to dress up and add your own touch of personality to your aircraft, much easier to apply and more cost effective than painting. Later, if you tire of the graphics and want to change, or if you sell the aircraft and the new owner does not like them, they are easily removed.
For Aircraft Registration letters in the UK we would advise reading the CAA (UK) regulations CAP523 for aircraft markings which outlines the specification for registration marks on aircraft. http://www.caa.co.uk/docs/33/CAP523.PDF

Basically a non-decorative font (non-serif) with good colour contrast between the aircraft colour and text. Text can be slanted but no greater than 30¬į. Fuselage or side markings a minimum height of 300mm and wing markings minimum height 500mm.
We can supply all graphics taped and ready to apply along with instructions on applying them. Only premium quality vinyl used in production and available in a range of colours to suit your aircraft.
Also available are safety/warning stickers (No Push) (No Step) and Fuelling Instructions
Engraved stainless steel fireproof identification plate (part of CAA regs see above)
Vinyl Protective covering pieces for high wear areas
Pin Stripping in a variety of colours
Logo and name vinyls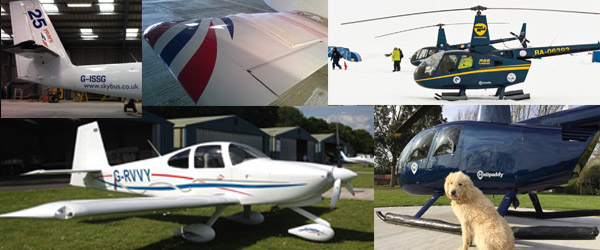 Specialising in custom made signs and stickers we can produce bespoke labels and decals to your requirements based on the airframe in question. If the marking requirements are to be painted then we can produce Vinyl Stencil Masks using a specific vinyl for this purpose thus enabling the graphics to be painted onto the skin of the aircraft.
Microlight/Utralight Note: Graphics are produced using a quality 5 - 7 year grade vinyl in a range of colours.  This material is more than adequate for most rigid winged aircraft including Mylar/Composite/Ultralam.  However flexiwing Dacron/Polyester material aircraft wings will require a fabric Dacron which we do not stock.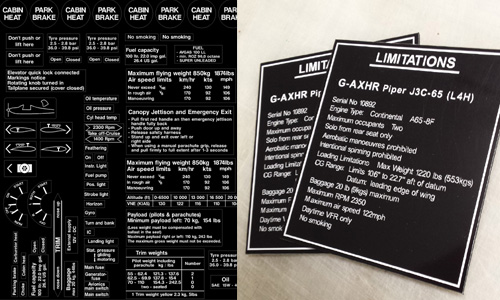 We also produce IP placards as self-adhesive labels or metal plates and can be custom made to suit the individual airframe. Ideal replacement for worn or damaged labels for instrument panels and airframe which include safety and warning signs for fuelling, capacity, airframe limits, NO STEP etc.
Fireproof Airframe Identification Plate

A legal requirement for each airframe to be identified with a fireproof identification plate and we are able to supply acid-etched stainless steel plates to any size.  Supplied with fixing holes if required.  Contact us with your size requirements.
If you have any questions regarding Aircraft graphics, or any questions about our services or products, please do not hesitate to contact us
Manufacturing & Materials
Superior grade vinyl used in the production of all aircraft graphics we supply.
Installation & Fitting
Graphics supplied taped and pre-spaced allowing for ease of installation with instructions for application guidance also included.
Order Your Aircraft Graphics
Get in touch today to place your order or to ask any questions.
other contact options